Hola!
Today I'm sharing a pop-up card featuring Mama Elephant's 'Otterly Adorable' stamp set. It took me ages to finish this card, and in the end, I don't know if I'm happy with how it turned out or if it is meh. Although I had very clear in my mind how I wanted to look, I wasn't sure about how to make it work… I did a lot of research on V-folds to find a way to make the card work for me.
So let's start with the front: I wanted to have a very simple and no dimensional scene, but at the same time anticipate what you are going to find on the inside. I used three different scene/border dies on a rectangular piece of cardstock. Then, I inked each piece and inlaid them inside the stitched frame die-cut from patterned paper. I slipt the otter on the wavy slit and added the butterflies. The sentiment is stamped using Versafine Onyx Black ink.
Now let's take a look at the inside of the card. When you open it you find a scene with a bunch of otters having fun. I used three V-folds to create the impression of depth: on the back, I used a mountain border die; on the middle, I used a cloudy border die to make some bushes; and on the front, a wave border die. The middle and the back V-folds point towards the viewer because I think thus it looks like those planes are far away from us. On the contrary, the front V-fold points away from the viewer, which gives the impression of a nearby scene. Also, I added an extra piece to the left side of the middle V-fold to fill some of the space.
I also wanted to floor those V-folds, so I inked the card base and decorated it with some die-cut images. I think this adds a lot to the scene.
So, as I mentioned, I did some research on V-folds because I wasn't sure about how to translate what was on my mind into paper. I have two fantastic books by Duncan Birmingham: Pup-Up! A Manual of Paper Mechanisms and Pop-Up design and paper mechanics. These have helped me a lot to find what suited my project. He has a great YouTube channel with lots of tutorials as well, which I recommend you to check out. And lately, I've been watching lots and lots of videos by Matthew Reinhart. He is an incredibly talented paper engineer (his books are astonishing), and his YouTube channel is fantastic. There you can find masterclasses and a lot of fun projects (many with downloadable templates) to make with your kids or honestly to make on your own because it's a lot of fun, plus you learn a lot!
I also wanted to share with you that I am not making as many projects as I wanted. I am a super slow crafter: it takes me long to color, and I tend to overthink every single step on my cards. I think that making scene/interactive cards does not help with that! Plus, it is so difficult for me to find the time to craft. Currently, I'm kinda staying home mom, and the baby and the housekeeping make me exhausted. Many days, when the baby falls asleep in the evening, I just don't feel like crafting. This frustrates me a lot because I have so many cool ideas for cards and projects… So if you're a staying home mom/dad, please, tell me how you balance your duties with your hobbies. I'm looking for some advice!!
I'm entering this card into Simon Says Stamp Wednesday Challenge – Anything Goes: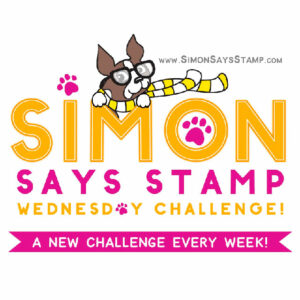 Thank you so much for visiting my blog. Have a great day!
---
Supply list
Stamps:
Mama Elephant 'Otterly Adorable'
Mama Elephant 'Lucky Cat'
Mama Elephant 'The Wild Roar'
Sunny Studio 'Silly Sloths'
Dies:
Mama Elephant 'Otterly Adorable'
Mama Elephant 'Lucky Cat'
Mama Elephant 'The Wild Roar'
Sunny Studio 'Silly Sloths'
Mama Elephant 'Ocean Waves Trio'
Mama Elephant 'Kingdom Trio'
Lawn Fawn 'Puffy Cloud Borders'
Lawn Fawn 'Outside In Stitched Rectangle Stackables'
Lawn Fawn 'Grassy Hillside Borders'
Hello Bluebird 'Pond Builder'
Coloring:
Zig Clean Color Real Brush markers
Inks:
Versafine Onyx Black
Mermaid Lagoon Distress Ink
Tumbled Glass Distress Ink
Evergreen Bough Distress Ink
Cracked Pistachio Distress Ink
Mowed Lawn Distress Ink
Stormy Sky Distress Ink
Shaded Lilac Distress Ink
Dried Marigold Distress Ink
Wild Honey Distress Ink
Lawn Fawn Yeti
Others:
Neat & Tangled 'Rice Paddies' stencil
Canson XL Bristol paper
Lawn Fawn Perfectly Plaid Chill patterned paper
Neenah Solar White 80 lb cardstock
Faber-Castell Pitt Pastel white pencil
Posca white pen
Kuretake Gansai Tambi watercolors
Picket Fence Distress Paint
Nuvo Crystal Drops – Ebony Black
Glossy Accents
Sakura Stardust clear glitter pen